Kat Perkins Continues To Make Minnesota Proud on 'The Voice'


Minnesota is being well represented on this season of "The Voice." Minneapolis musician, Kat Perkins, landed herself a spot on the music competition after being discovered by the show's producers.

Perkins, a local musician and nanny originally from Scranton, North Dakota was found by the producers from a year-old video posted on YouTube of her singing Adele's, "Someone Like You."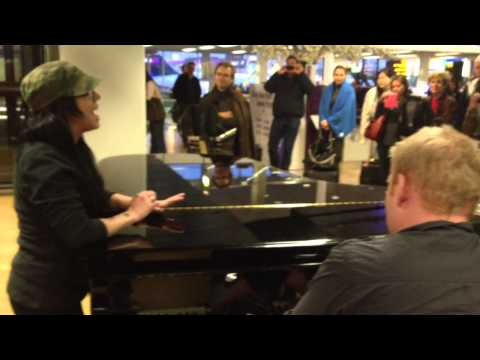 The producers liked the performance so much that they called her up and invited her to audition. Perkins told the Pioneer Press in an interview, "I didn't picture myself ever auditioning for one of those shows. I'm a huge fan and I sit and watch them--especially 'The Voice.' But I never pictured myself doing it. Putting yourself out there is so scary to think about, but when the call came inviting me to do it, how could I say no? I had to take a chance."

Perkins performed her own rendition of Fleetwood Mac's "Gold Dust Woman" for her blind audition. The performance inspired three of the four coaches on the show to turn their chairs around and make a plea for her to join their team. Coaches Adam Levine, Usher and Shakira all tried to convince Perkins to join their team and she decided--at the last moment--to join Adam's team:




And just in case you missed it last night, Kat bested Patrick Thomson with her 'Battle Round' performance of the Kenny Loggins + Stevie Nicks duet 'Whenever I Call You Friend':




Although Perkins found success participating in local bands like Scarlet Haze, Northern Comfort and Dirty Word she expressed her excitement for her solo career to Pioneer Press, "It's either all or nothing venturing out on my own. And I did, I went big and I think it's the perfect platform for me to do that. I don't know if I would have had the strength or motivation to do it any other way."

--
Source: TwinCities.com